Dale Jackson
Pastor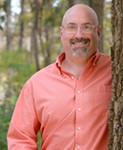 Return to Staff Page

I attended seminary at Louisville (KY) Presbyterian Theological Seminary and have served churches in Indiana, Illinois and Missouri. I have also worked for the national offices of the denomination in Louisville. I love leading worship and preaching and believe that worship should be innovative and exciting! Most would describe my theology as progressive and I find inspiration from many religions and faith traditions. One of the greatest theologians in recent history was Charles Schultz, creator of the Peanuts gang.

My favorite place in the world, so far, is the Big Island of Hawaii. The beauty around me, the power of the ocean and serenity of the sky and people all teach me about our wonderfully creative God. I love attending live theater events as well as movies, am an avid Star Trek fan (The Next Generation), and love spending time with my spouse, Dennis and our 5 grandchildren, three of whom happen to live right in Chicago!

I celebrate a church that is open to God's wildly inclusive love and understands that not only do we not have all the answers, we don't even have all the questions. I personally invite you to join us for worship or any of our activities.