Lynda Nadkarni, Minister of Mission & Outreach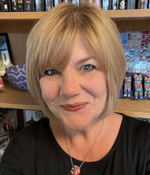 Return to Staff Page

Lynda is a life-long member of the congregation who felt called to serve in this new role in June 2021. She brings a life of teaching, administration in education, non-profit management and volunteer service to the role. Lynda is excited to work with the congregation to further mission and outreach and to address system issues of injustice. As our Preschool is a mission of the congregation, Lynda is also serving in the role of director. She lives in LaGrange Park with her husband Nick. They have two adult daughters Marika and Kathryn.